Langley WorkBC Hosted Entrepreneur Talk Success!!!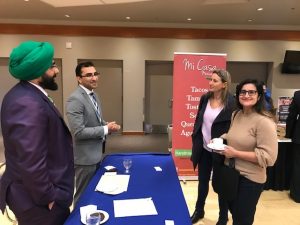 On Tuesday, October 22nd, six small business owners shared their business start-up experiences. The panel spoke of the challenges they'd faced and offered tips for success. The following companies were represented:
1. Big Hearts Home Health Care
2. Mi Casa Mexicana
3. MPOWER LIVES Company
4. Shameless Resale
5. The Bench Snack Bar
6. Western Sky Books, and
7. Vinebyte Technologies Inc.
Challenges shared included finding the right location, the workspace and the right staff, obtaining capital and managing cash flow and time management and having the discipline to work hard and not give up.
Based on their experience, panelists also offered the following tips for budding entrepreneurs:
1. Find a niche market
2. Offer solutions to your customers' everyday problems
3. Network with people within your industry
4. Keep your books up to date – get an accountant or bookkeeper
5. Research the market and know what makes you stand out from others
6. Work hard and don't give up
7. Be consistent
8. Ask for help when you need it
9. Have a vision and create a business plan that aligns with your vision
10. Ask questions and learn from others in your industry
11. Add value for your customers when you can
If you are interested in starting your own business, contact the Langley WorkBC Centre closest to you for assistance.